Sulwahsoo Evenfair Perfecting Cushion Foundation 15g + Refill 15g) SPF50 PA+++ Queen of All Cushion
Sorry, this item is out of stock
Sulwhasoo releases Perfecting Cushion Brightening

Cushion foundation that gives an all-day lasting glow to the skin
- Magnolia extract and mother-of-pearl complex give an instant glow and help restore the skin's natural clean complexion
- Licorice extract effective in purification is used, rather than pure water
Sulwhasoo, the holistic beauty brand offering harmonious and balanced beauty based on Asian philosophy and wisdom,
has recently launched the Perfecting Cushion Brightening which restores the skin's natural clean complexion
and helps keep the skin glow all day long.

Perfecting Cushion Brightening contains magnolia extract and precious, resplendent mother-of-pearl complex that have been rightly
hailed as ingredients offering brightness and shine to the skin in Donguibogam (Principles and Practice of Eastern Medicine).
Magnolia extract and mother-of-pearl complex give an instant brightening effect to make the skin bright and glow with health.

Donguibogam describes the way that oil made from magnolia can brighten the face
when applied and that pearl makes the skin look fine and glow.

Plus, Sulwhasoo's special purifying water made with extract of licorice effective in
purification is used instead of pure water to give a clean, clear complexion.

With the Oil Capture System that captures and absorbs unnecessary oil, Perfecting Cushion Brightening gives a smooth,
skin-fitting finish without leaving a sticky feeling. And it comes in five shades based on the global color system that
AMOREPACIFIC has developed to match different skin colors of customers worldwide.
光透水潤無瑕 完美肌膚最終解答
雪膚花容完美絲絨氣墊粉霜SPF50+PA+++ 
瞬息上妝 防曬潤澤、遮瑕亮采、緊緻Q彈 晝夜無懈可擊
以頂級漢方菁萃保養成份結合先進科技聞名全球的《Sulwhasoo雪花秀》,暨2013推出結合全方位保養功效與韓系光澤妝效的「雪膚花容底妝系列」,大為滿足台灣女性夢寐以求的服貼薄透光澤系妝感之後,《Sulwhasoo雪花秀》於2014年初春推出多功能綜效底妝新品「雪膚花容完美絲絨氣墊粉霜」,10秒內即可打造出粉嫩Q彈、透亮光澤美肌,更能輕鬆從早上10點鐘到晚上10點鐘,長效維持十全十美的無瑕妝容!
薄透光感 & 粉嫩Q彈 & 潤澤防護 的紓壓療癒上妝饗宴
延續「雪膚花容底妝系列」中具高抗氧化的「杏桃仁油」為上妝後的肌膚提供長效的保濕與抗氧功效,以及萃取自韓國名寺順天仙巖寺淡雅梅花香氣,紓緩身心壓力,讓上妝過程成為無可取代的頂級饗宴以外,更結合《Sulwhasoo雪花秀》核心成分「滋陰丹露」,維持全天候水潤緊緻以及獨家特殊科技─讓粉體更加緊貼肌膚紋理的「完美修片聚合物」與運用水彩原理於粉底作品的「水粉勻散科技」,創造出打造12小時維持水嫩無瑕妝感的「雪膚花容完美絲絨氣墊粉霜」。
獨家氣墊粉霜科技  卓越絕倫
《Sulwhasoo雪花秀》擁有的獨家底妝科技,使「雪膚花容完美絲絨氣 墊粉霜」創造出10秒輕拍出的無懈可擊妝容,無人能出其右。「雪膚 花容完美絲絨氣墊粉霜」擁有的「完美修片聚合物」,較一般聚合物更加彈性與服貼,能緊密結合粉體,並緊貼肌膚紋理,提供長達12小時的長效附著力,讓妝感愈加持久無瑕。獨家「水粉勻散科技」,則是運用水彩原理,將粉體充分融合於水分中,均勻漫射分散,即使重複上妝,亦能提供不結塊的水潤薄透妝感,維持長效遮瑕力,在完妝後,當肌膚分泌輕微油脂時,反而愈加提亮,展現不暗沉光澤感得光澤感,毫無油膩脫妝的困擾。「雪膚花容完美絲絨氣墊粉霜」搭配的完美智慧粉撲,其特殊織法,使粉撲結構上更具彈性與空間,可以均勻沾取氣墊粉霜,於輕拍上妝的過程中,輕鬆快速地將氣墊粉霜均勻覆蓋 於全臉,創造更佳的遮瑕效果,而其咖啡色色澤亦能夠更容易保存而不顯髒。
植物界最佳抗氧化代表 「杏桃仁」強化保濕功效
擁有「中醫之花」美譽的杏仁,自古即為用途廣泛且效果極佳的天然藥草成份。中國醫藥典籍本草綱目更記載了超過200多種以上與杏桃仁相關的處方。「雪膚花容完美絲絨氣墊粉霜」中注入杏桃仁油(Apricot Seed Oil),為上妝後的肌膚持續提供長效保濕;杏桃仁成份中富含超過92%以上的脂質與豐富的維生素E,有助於肌膚明亮水潤,即使長時間上妝亦不會產生乾燥脫妝等現象;「雪膚花容完美絲絨氣墊粉霜」更特別含有效防止肌膚膠原蛋白分解的「腺甘酸」,幫助維持肌膚緊實柔嫩。
This is something I must blog and share.

I happened to see this Sulwhasoo cushion foundation onboard the SQ Kris Shop magazine. Well, needless to say, I normally spend my time on the plane 'shopping' for good deals, WHY NOT? It's duty-free!! 
The word 'Cushion' caught my attention, I bought it of cos!

The first time I used it, I fell in love with it, I threw away all my other branded foundation that is taking up my makeup box storage space.
YUP I THREW THEM ALL AWAY.

Trust me, once you get into this 'Cushion' , you can never get back to any powder, bb cream........

Sulwhasoo Evenfair Perfecting Cushion Foundation was launch in Feb this year (2014). I bought this in June. Why do I take so long to share this? Hmmm.......Korean Cushions are so the "in" thing these days, I found out there are many other brands out there. I needed to try and test if there's other 'cushion' that is better than Sulwhasoo.
So here is my review.

1) Compared with Laneige's BB Cushion, IOPE Air Cushion XP and Hera's UV Mist, this is the smoothest and most curved of all, kinda like a really smooth pebble. However, all the refills are the same size and can fit into each other's casings.

2) Unlike the Laneige BB Cushion which I have tried before, upon touching and swatching, you can immediately feel that it is a foundation that gives you more coverage than a normal BB cream. This is ULTRA LIGHTWEIGHT, and yet provides me enough coverage for daily wear. Sulwhasoo cushion is an essence foundation not a BB product.

3) This is the longest lasting foundation so far, a good 10 hours throughout the day. It never oxidise on me, nor make me look greasy at all. It just looks effortlessly flawless on me. 

4) Both Sulwhasoo and Laneige are under the same parent company, Amore Pacific. Sulwhasoo is one of the prestige brands from Korea known for their premium ingredients, with skincare products boasting more than half the herbal medicine cosmetics market share in Korea and ranked #1 nationally.

5) Sulwahsoo Evenfair Cushion also got the BEST COVERAGE, I DID NOT use any makeup base, primer or DARK CIRCLE CONCEALER. It covers these flaws effortlessly. 
The signature technology of Sulwhasoo Makeup is its Inner Dispersion Technology (the 'water colour method' to diffuse pigments in water instead of oil). This ensures that the emulsion is smoothed onto the skin evenly and without lumping. Imperfections can be concealed, and skin stays naturally radiant, even with high coverage. 

I love the lightly herbal/ floral scent of the foundation. 
 Cooling and moisturizing sensation once applied onto skin! 

 Illuminates and evens out my overall skin tone! ✓

 Flawless and radiant dewy korean artiste looking skin! Moist moist watery looks yet not oily at all!!

 Felt the moisturizing and cooling effect even after 10 hours! 

 Won Allure Korea's Editor's Pick 2013 award 

Superb ingredients, it's not only a foundation but skin nourisher as well!!

Apricot Kernel Oil
White Lily, 
Peony, 
Solomon's Seal, 
East India & Lotus, 
Adhesive Rehmannia
All Products From Bluemoon Are 100% Authentic, We Promise!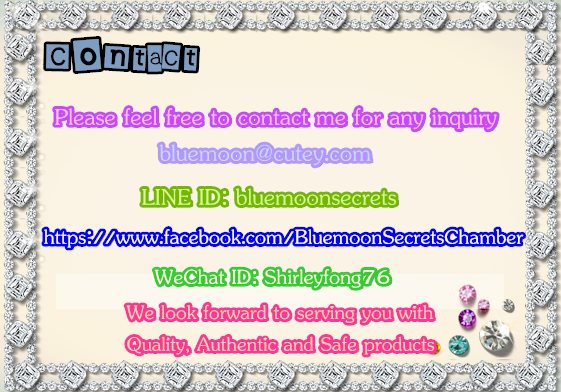 IMPORTANT DISCLAIMER
1. All pictures, photographs, designs, artwork, documents, layouts, ideas, writings, articles and other other material capable of being published or reproduced as provided in this site are subject to copyright and belongs to BLUEMOON SECRETS CHAMBER.
2.  Any reproduction, republication or posting in any form or manner whether in whole or in part is NOT allowed without the consent of BLUEMOON SECRETS CHAMBER. However, We are often very willing to share material upon request.
3. We reserve all rights to take legal actions against any individual for their Q&A postings that are baseless,
without concrete evidence and of mischief nature.
4. For inquiries, contact us at BLUEMOON@BLUEMOONSECRETSCHAMBER.COM
BLUEMOON SECRETS CHAMBER will be happy to assist you with our best knowledge.
5. If you found information here to be inappropriate or inaccurate,
kindly inform us via email and we will seriously review and response as soon as possible.
6. We regret any inconvenience caused during the period of clarification and seek your kind understanding.
7. BLUEMOON SECRETS CHAMBER remains committed to the highest quality of product, before and after sales service to all customers.
8. The information contained in this site is subject to change from time to time depending on circumstances and we do not guarantee the accuracy of the same. We recommend that you check with us before placing any orders.
9. We recommend that you use a reliable courier service or registered mail service for deliveries where applicable and we shall not be liable or responsible for any loss or damage caused or arising due to uninsured mail or normal postal deliveries