Shills Cherry Blossom Cranberry Private Care Cleansing Mousse/Feminine Wash/SHILLS蔓越莓私密粉嫩淨味慕絲150ML
Shills Cherry Blossom
Private Care Cleansing Mousse
SHILLS蔓越莓私密粉嫩淨味慕絲 150ML
No More Smells, Seriously! 
Using natural ingredients. 
Enriched with cranberry ingredients
Gentle to all skin types
Daily protection and freshness
Prevent infections and anti-bacterial
Control Odour the whole day
Whitening & Moisturising
Smooth Skin
Suitable for sensitive skin
A well known brand in Taiwan, raved by many superstars and TV shows.
For the women of today who need to clean and protect her intimate area, to keep away itching, irritation and odour.

SHILLS Love Me Feminine Wash helps to maintain the pH level of 3.5 your natural vagina pH, thanks to its unique combination of cranberries extract and effectively gives your intimate freedom from infection, itching and malodour.

Direction to use:
Step 1: Squeeze onto the palms and lather into foam.
Step 2: Gently massage and cleanse your intimate part.

Volume: 150ml
Do you suffer from excessive vaginal discharges, bad odors or disturbing itchiness? This is how you can handle the disturbing problem and restore the freshness feeling throughout the day

Vaginal discharge is a common phenomenon among women, causing discomforts due to its side effects such as bad odors, staining the underwear and itchiness or burning sensations. It is important to notice that such vaginal discharges do not indicate that you are suffering from infection or any other problem, and in most cases a simple treatment can help you get rid of this disturbing phenomenon.
How to avoid vaginal infections and inflammations?
The vagina is an area regularly inhabited with good bacteria that can be found in other parts of our body as well. The most common vaginal bacteria is the Lactobacillus, which helps maintaining the acidity (pH 3.5) of the vagina by producing lactic acid that protects the vagina from various infections using anti-bacterial activity. The main reason for itches, discharges, inflammations and infections is the violation of the natural bacterial balance and change in the acidity level, which can be the result of various factors such as antibiotics, a too tight pair of jeans or staying in an unsterile environment.

To avoid itches in the vagina it is recommended to regularly use vaginal wash. intimate wash keeps the pH level balanced and protects the vagina from infections and inflammations.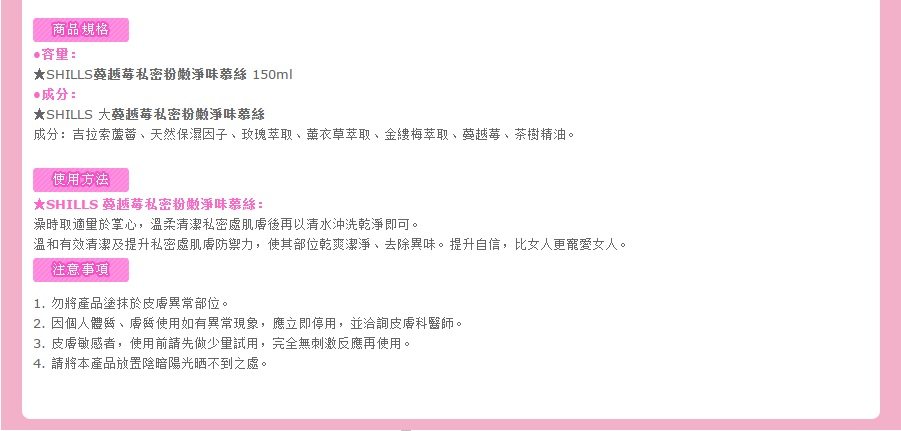 SHӀLLS蔓越莓私密粉嫩淨味慕絲 
寵愛自己 私密保養品
提升自信,比女人更寵愛女人。創新配方,輕柔的清洗,不會使肌膚乾燥,可以有效的清潔,也可以很好的修護,讓肌膚舒滑。

維持私密處肌膚表層的平衡:植物性成分,極佳的清潔成分配方,柔滑肌膚並帶給肌膚舒適。

從生活習慣、保養觀念到產品體驗,提出提升防護力、提高嫩白度與潤澤感三大方向,推出針對東方女性配方私密保養品。


以性感、自信舞出女性風采,大方秀出細心呵護保養的自信成果。甜甜果香,感覺自己就像公主一樣。

讓所有美眉都能感受這樣的水、嫩。私密處的肌膚嬌潤柔嫩,要更細心呵護,才能達到水嫩潤白效果。

質地溫和,無皂鹼深層清潔、維護肌膚、潤澤保養與重點深層修護都是私密嫩白潤澤的保養重點。

私密處清潔是女性一大重要保養。專為女性朋友設計獨特私密處清潔慕絲,去除異味、粉嫩私密處。

★  私密肌膚清潔及保養 ★  擁有天然防護力,無次激性 ★  淡雅果香味 ★  敏感肌膚適用 
All Products From Bluemoon Are 100% Authentic, We Promise!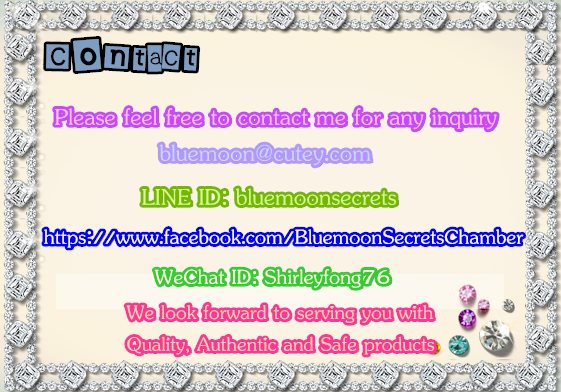 IMPORTANT DISCLAIMER
1. All pictures, photographs, designs, artwork, documents, layouts, ideas, writings, articles and other other material capable of being published or reproduced as provided in this site are subject to copyright and belongs to BLUEMOON SECRETS CHAMBER.
2.  Any reproduction, republication or posting in any form or manner whether in whole or in part is NOT allowed without the consent of BLUEMOON SECRETS CHAMBER. However, We are often very willing to share material upon request.
3. We reserve all rights to take legal actions against any individual for their Q&A postings that are baseless,
without concrete evidence and of mischief nature.
4. For inquiries, contact us at BLUEMOON@BLUEMOONSECRETSCHAMBER.COM
BLUEMOON SECRETS CHAMBER will be happy to assist you with our best knowledge.
5. If you found information here to be inappropriate or inaccurate,
kindly inform us via email and we will seriously review and response as soon as possible.
6. We regret any inconvenience caused during the period of clarification and seek your kind understanding.
7. BLUEMOON SECRETS CHAMBER remains committed to the highest quality of product, before and after sales service to all customers.
8. The information contained in this site is subject to change from time to time depending on circumstances and we do not guarantee the accuracy of the same. We recommend that you check with us before placing any orders.
9. We recommend that you use a reliable courier service or registered mail service for deliveries where applicable and we shall not be liable or responsible for any loss or damage caused or arising due to uninsured mail or normal postal deliveries