Hera Eye Designer Pencil/ Eye Shadow + Eyeliner All-in-One
Sorry, this item is out of stock
Hera Eye Designer Pencil
Eye Shadow + Eyeliner All-in-One

Excellent Long Lasting Power

No Smudge

No Smear

No Irritation

Creamy Texture

Free Sharpener Included
Hera, A korea Premium 

Quality Brand
Since 1995, HERA has used the latest science and technology to develop beauty products that reduce signs of aging. Its serums, creams and masks feature ingredients designed to leave both mature and youthful skin rejuvenated and moisturized. The brand's collection includes face care and makeup for women as well as a skincare line for men. HERA manufactures all its products in South Korea, and belongs to the Amorepacific group, which also includes popular beauty brands Innisfree, Etude House and Sulwhasoo.


All Products From Bluemoon Are 100% Authentic, We Promise!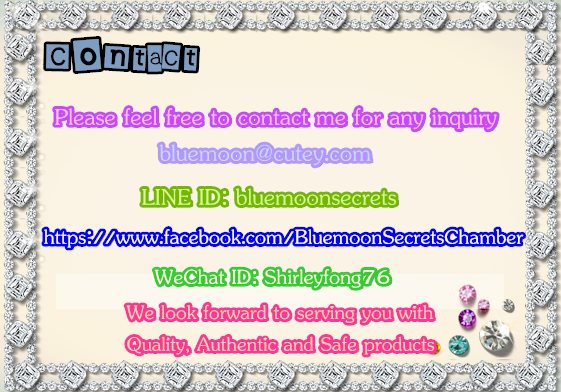 IMPORTANT DISCLAIMER
1. All pictures, photographs, designs, artwork, documents, layouts, ideas, writings, articles and other other material capable of being published or reproduced as provided in this site are subject to copyright and belongs to BLUEMOON SECRETS CHAMBER.
2.  Any reproduction, republication or posting in any form or manner whether in whole or in part is NOT allowed without the consent of BLUEMOON SECRETS CHAMBER. However, We are often very willing to share material upon request.
3. We reserve all rights to take legal actions against any individual for their Q&A postings that are baseless,
without concrete evidence and of mischief nature.
4. For inquiries, contact us at BLUEMOON@BLUEMOONSECRETSCHAMBER.COM
BLUEMOON SECRETS CHAMBER will be happy to assist you with our best knowledge.
5. If you found information here to be inappropriate or inaccurate,
kindly inform us via email and we will seriously review and response as soon as possible.
6. We regret any inconvenience caused during the period of clarification and seek your kind understanding.
7. BLUEMOON SECRETS CHAMBER remains committed to the highest quality of product, before and after sales service to all customers.
8. The information contained in this site is subject to change from time to time depending on circumstances and we do not guarantee the accuracy of the same. We recommend that you check with us before placing any orders.
9. We recommend that you use a reliable courier service or registered mail service for deliveries where applicable and we shall not be liable or responsible for any loss or damage caused or arising due to uninsured mail or normal postal deliveries