Happy Bath Natural Real Body Milk 450ml/Made in Korea/Using 90% Natural Ingredients/韓國愛茉莉身體乳液
Sorry, this item is out of stock
Happy Bath Natural Real Body Milk 450ml
Made in Korea
Moisturise Firming Smoothing Whitening Calming
Non Sticky
Using 90% Natural Ingredients
韓國愛茉莉身體乳液
The same 2 flavors, matching with the body wash

1) Fruity Flora (Apple Banana Peach Milk) Moisturize
Using Real Natural Fruits Water 450ML
2) Powder Flora (Rice Grain, Hazelnut, Almond Milk) Mild and Smooth 
Using Real Natural Rice Grain Water 450ML

Both smell very different, both are very nice!!! Bluemoon's favourite is the fruity flavour.

Anti Aging
Firming
Calm & Relax your mind & Mood
Smooth and Moisturise without any stickiness


This Natural Real Moisture Series is the most popular and Best Quality of all Happy Bath ranges.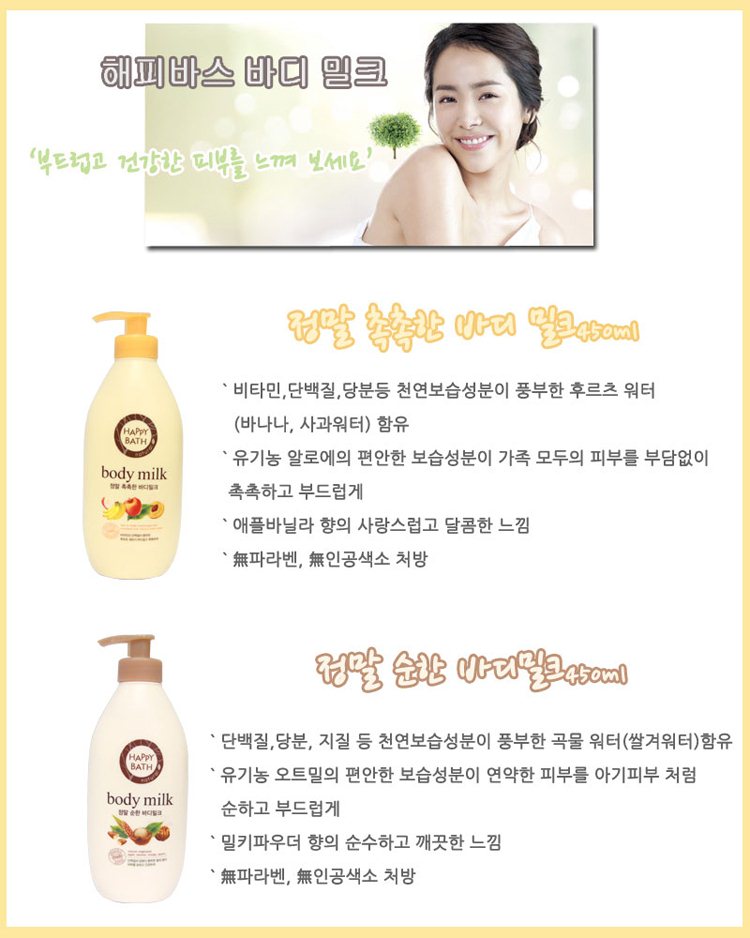 小麦谷物、水果在秋冬季节中,除了保养自己的脸部肌肤,也别忘了给自己的身体肌肤做保养哦。此款身体乳清香怡人,涂上后使肌肤超级柔滑哦!能有效锁住水分,让你一天保持活力。采用弱酸性温和配方对肌肤无刺激,具有超卓的保湿、滋润、延缓细胞老化,增强肌肤弹性之功效。特有的天然植物芳香精华具有舒缓肌肤,安抚情绪,畅快身心的效果。
    此款是爱茉莉HappyBath系列中最著名和好用的身体乳,味道好闻,果冻般的质地,让肌肤也享受水果大餐,尽情感受来自水果、香蕉、苹果、杏仁,牛奶中加入全新的技术力量,萃取有效成分,最大限度地保持了其矿物质、维生素、糖等营养素的活性,令您感受到双重强化的柔润滋养效果!
    采用弱酸性温和配方对肌肤无刺激,具有超卓的保湿、滋润、延缓细胞老化,增强肌肤弹性之功效。特有天然植物鲜花芳香精华具有舒缓肌肤,安抚情绪,畅快舒心的效果。 
    全天候滋润肌肤,有效保持肌肤的含水量,让肌肤润泽光洁。清洁肌肤的同时自动调节肌肤的滋润度,让肌肤娇嫩柔滑。充分释放肌肤压力,让燥热、疲惫的肌肤倍感清爽舒畅。特有的天然植物鲜花芳香精华具有舒缓肌肤,安抚情绪,畅快身心的效果。
    使用方法:沐浴后或干燥,取适量,涂抹于身体,轻轻按摩让肌肤收。 
    品牌介绍:
   韩国最大的化妆品公司——爱茉莉太平洋集团始创于1945年。作为韩国化妆品行业的先驱,一直致力于美丽和健康的事业,不懈追求东西方文化的和谐统一,给全世界爱美女性传递最新护肤美容理念和化妆科技。  
    爱茉莉太平洋集团是韩国最大的专业从事化妆品开发、生产和销售的国际性集团,全球排名前15位,在韩国声望甚隆,一直致力于东方神韵和西方魅力的完美结合。 主要生产的是美丽产品,包括化妆品,香水,个人护理和健康产品。旗下拥有Laneige兰芝/Iope/Hera/Etude爱丽/Sulwhasoo雪花秀/Innisfree悦诗风吟/Lolita/Espoir艾丝珀等20几个品牌。爱茉莉倡导的美丽文化不仅仅是护肤、化妆,更是时尚女性所追求的快 乐、健康、年轻的生活态度早在韩国爱茉莉太平洋集团创建之时,"科技第一"已成为公司经营理念中非常重要的一条。带着科学专业化和科研最大化的信念,爱茉莉太平洋的科研中心在2000年被韩国政府评为"国家科学研究室"。
All Products From Bluemoon Are 100% Authentic, We Promise!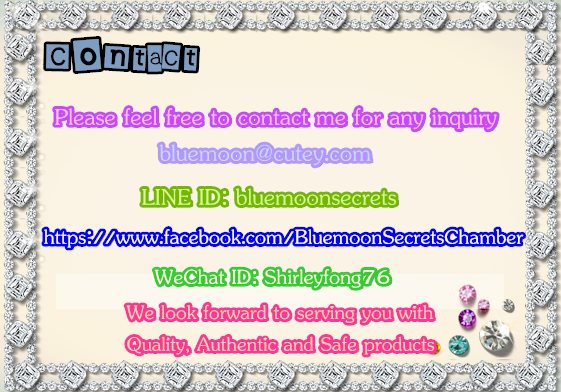 IMPORTANT DISCLAIMER
1. All pictures, photographs, designs, artwork, documents, layouts, ideas, writings, articles and other other material capable of being published or reproduced as provided in this site are subject to copyright and belongs to BLUEMOON SECRETS CHAMBER.
2.  Any reproduction, republication or posting in any form or manner whether in whole or in part is NOT allowed without the consent of BLUEMOON SECRETS CHAMBER. However, We are often very willing to share material upon request.
3. We reserve all rights to take legal actions against any individual for their Q&A postings that are baseless,
without concrete evidence and of mischief nature.
4. For inquiries, contact us at BLUEMOON@BLUEMOONSECRETSCHAMBER.COM
BLUEMOON SECRETS CHAMBER will be happy to assist you with our best knowledge.
5. If you found information here to be inappropriate or inaccurate,
kindly inform us via email and we will seriously review and response as soon as possible.
6. We regret any inconvenience caused during the period of clarification and seek your kind understanding.
7. BLUEMOON SECRETS CHAMBER remains committed to the highest quality of product, before and after sales service to all customers.
8. The information contained in this site is subject to change from time to time depending on circumstances and we do not guarantee the accuracy of the same. We recommend that you check with us before placing any orders.
9. We recommend that you use a reliable courier service or registered mail service for deliveries where applicable and we shall not be liable or responsible for any loss or damage caused or arising due to uninsured mail or normal postal deliveries