Eye Majic Instant Eye Shadow Australia 5 Pairs Box + 1 Pair Free☆澳洲Eye Majic神奇三秒便利眼影贴
Eye Majic Instant Eye Shadow
☆New Arrival Amazing Professional
★2014/2015 Hit Item in Korea/Australia/USA
★Made in Australia
☆No Parabens
☆Recycle/Biodegradable
☆No Fallout
☆No Crease
☆No Pots/No Brush
☆澳洲Eye Majic神奇三秒便利眼影贴
eyeMajic is the world's first complete eye shadow application which allows users to apply eye shadow without the burdened fuss of brushes and pots.

 It can be used anywhere at any time, without the need of a mirror. It takes less than 10 seconds to apply and users can keep up with the latest colors, fashions, trends and designs.

They say, "practice makes perfect". There is no need for practice when applying Eye Majic, as perfections is achieved every time! It can't be any simpler. Any user error can easily be rectified by blending with the back of the applicator.

Simply the easiest eyeshadow I have ever used, with a range of colors to suit my mood.
Eye Majic ™ is a fully patented one sweep application of high quality eye-shadow which slashes the most time-consuming aspect of cosmetic application from 10 minutes to 10 seconds. It allows the user to achieve a professional makeup artist look without the slow and messy use of brushes and pots. It is an easy and fun to use product aimed at all cosmetic users who want a quicker way of applying eye-shadow with more consistent finished results and a wider selection of colour variations and patterns to choose from.
日本爆红的美容神奇小物
Eye Majic 眼影贴
【产品介绍】Eye majic是世界上第一及唯一一种眼影令你不需任何工具配合下可使用的眼影。她摒弃旧式眼影的烦恼,不须任何工具包括化妆扫和镜子,只需10秒就可完成整个眼妆。眼影色系选择丰富,全部经过精心挑选,并跟据国际潮流指标设计完成。
经常听到『练习能达至完美』。不过,这句话从今天起可能要改写了!Eye majic是一种毋须经过特训,就可创造出完美眼妆的妆物。3个轻松步骤,任何人都可以化出一个完美的本产品有奥洲产的,美国也有出产,现在出售的是大陆生产的,有29种颜色供选,效果跟专业化妆师媲美,时常为化妆犯难的MM们,有福拉。。。。。
1:輕輕拉平眼眉及眼皮部分,將Eye majic輕壓在最貼近睫毛的位置上大約4秒。
2:用指頭稍為加壓顏色後,著眼尾方向拉出。溫馨提示:想避免邊界形成,可用背面輕輕葷開邊界及柔和顏色。
3:如要塑造另外一個與別不同的妝效,可將不同顏色的眼影組合加在已完成的第一個眼影上即可。
1.Eye majic的所有色系已經過電腦系統化的分析,創造出多個不同眼影組合,令用家省卻搭配眼影色系的時間和煩惱。另一方面,Eye majic能完全平衡雙眼的顏色,不會出錯。

2.Eye majic完全地脫離污染因素,全部由機械製造,將取代污穢與煩擾的化妝掃。

3.Eye majic的眼影片能用來葷染和整理已貼上之眼影。

4.任何人都能輕易地使用Eye majic。就算平常不化妝的家庭主妇也能輕易地做出跟經驗化妝師的效果,更不會像舊式化妝浪費過多的眼影粉。

5.Eye majic全部由礦物粉製造,能完全停止以往化妝對眼皮的傷害,更不用被化妝掃拉鬆眼皮。

6.Eye majic既安全又整潔,可方便地放在手袋作隨時轉妝之用。

7.Eye majic符合環保原則,包裝有80%為可循環再造之物料。

8.Eye majic不但於最短時間完成一個完美的眼妝,比舊式眼影效力更持久。

9.全球大約60%已放棄化妝的女性因為Eye majic而再次化妝。

10.Eye majic乃全球
最快最容易使用的眼影。因為貼上眼影前不須使用任何粉底,整個過程只須少於10秒,而且任何眼型適合使
All Products From Bluemoon Are 100% Authentic, We Promise!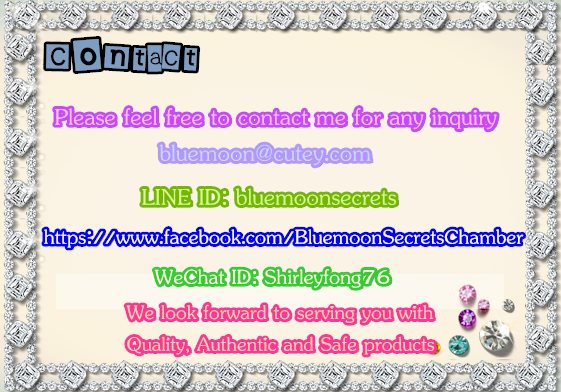 IMPORTANT DISCLAIMER
1. All pictures, photographs, designs, artwork, documents, layouts, ideas, writings, articles and other other material capable of being published or reproduced as provided in this site are subject to copyright and belongs to BLUEMOON SECRETS CHAMBER.
2.  Any reproduction, republication or posting in any form or manner whether in whole or in part is NOT allowed without the consent of BLUEMOON SECRETS CHAMBER. However, We are often very willing to share material upon request.
3. We reserve all rights to take legal actions against any individual for their Q&A postings that are baseless,
without concrete evidence and of mischief nature.
4. For inquiries, contact us at BLUEMOON@BLUEMOONSECRETSCHAMBER.COM
BLUEMOON SECRETS CHAMBER will be happy to assist you with our best knowledge.
5. If you found information here to be inappropriate or inaccurate,
kindly inform us via email and we will seriously review and response as soon as possible.
6. We regret any inconvenience caused during the period of clarification and seek your kind understanding.
7. BLUEMOON SECRETS CHAMBER remains committed to the highest quality of product, before and after sales service to all customers.
8. The information contained in this site is subject to change from time to time depending on circumstances and we do not guarantee the accuracy of the same. We recommend that you check with us before placing any orders.
9. We recommend that you use a reliable courier service or registered mail service for deliveries where applicable and we shall not be liable or responsible for any loss or damage caused or arising due to uninsured mail or normal postal deliveries