Funcare Hello Kitty Digital Tens Mini-burner Low frequency treatment & slimming device/船井低周波迷你按摩器材
Sorry, this item is out of stock
Funaicare Digital Tens Mini-burner
Low frequency treatment/Slimming device
船井低周波治療器 隋棠S號腰身迷你燃燒脂肪按摩器材
Relaxing muscles and joints




Aiding in healthy weight loss




Enhancing circulation system of body




Eliminating physical fatigue and pain caused by long-time work.
Low frequency treatment device that helps release stress and tenseness to create slimmer body figures. Can be used as a whole body massage to release stress, relax the body, and create attractive figures. A medical device that is easy to carry around, which makes you feel like having a personal masseuse that is able to provide you with massage-like sensations anytime, anywhere. Relaxation to the whole body makes your whole family healthy and energetic so everyone can live each day to its fullest.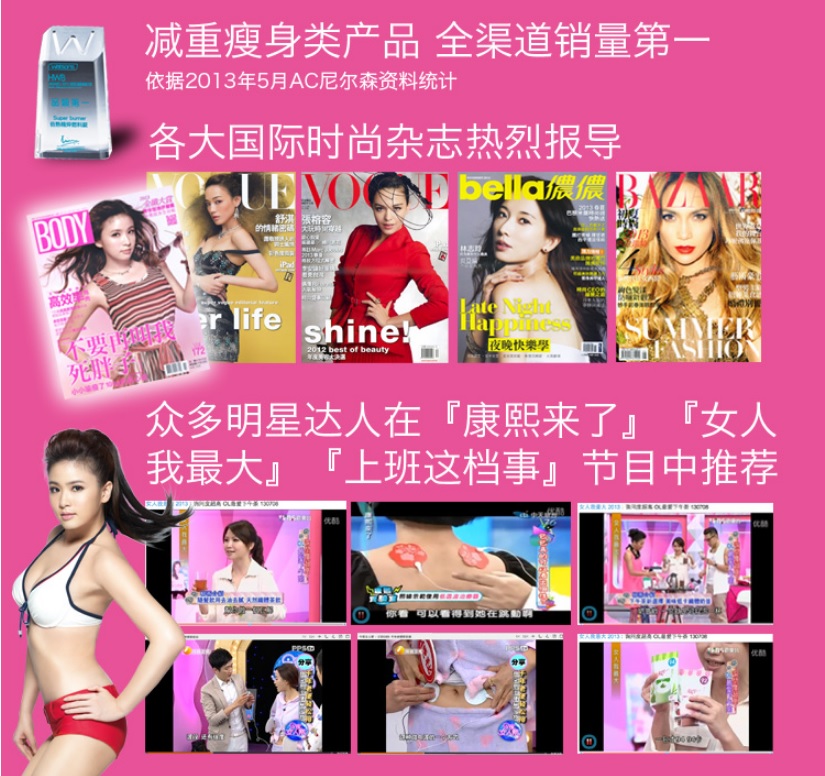 獨創微電腦智慧科技,內建10種按摩程式、70種按摩技法,透過電極貼片溫柔包覆,每分鐘達到250次微拍動,宛如大師級手感膚觸,創造出多變,媲美SPA館的舒感按摩情境。
Mini貼身按摩、隨時隨地輕鬆貼,減輕肩膀酸痛,末梢神經麻痺所帶來的困擾。模擬真人的專業級按摩,體驗擁有貼身按摩師的享受,每天早晚按摩,能有效減輕壓力、舒緩肌肉酸痛!貼心定時關機設定,讓你紓壓、減壓不超時。
主機與貼片採鈕扣型分離設計,有線使用一次可貼附兩個部位,無線使用超隱密。
如對此商品有興趣、請洽各銷售據點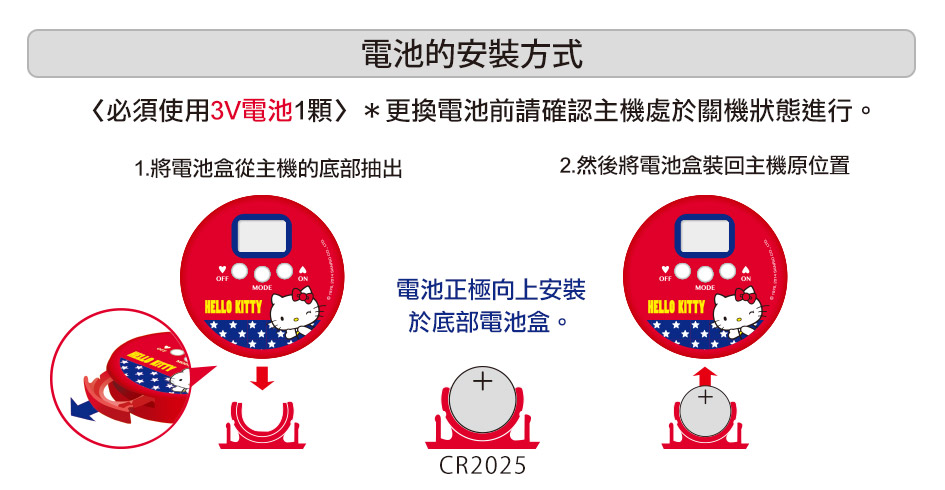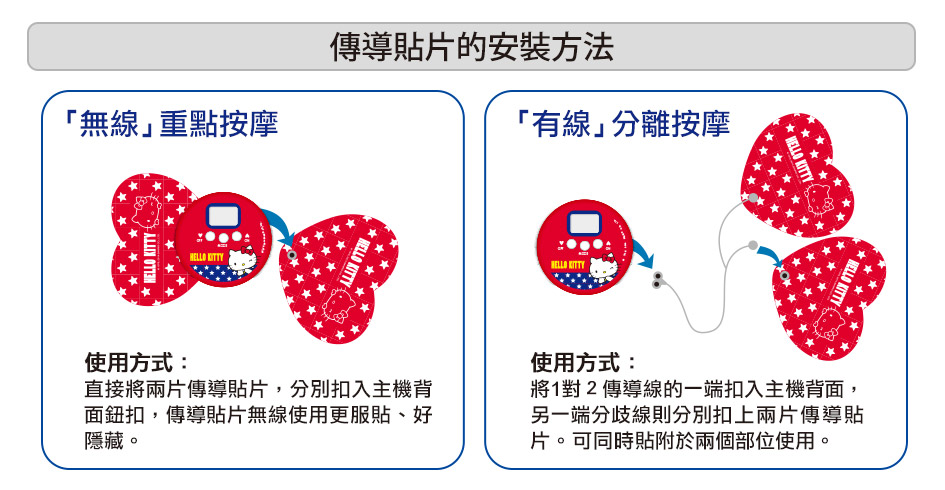 品  名:醫卡低週波治療器 (Hello Kitty迷你機)
型  號: HT329L2-KT3(數位式)
電源、電壓:3V鋰電池CR2025一顆
刺激形式: 視輸出程式具不同組合
強弱調整: 16階段
自動電源OFF:30分鐘±10%
使用溫度: 攝氏5~40度
輸出程式切換:P1~P10
出力電流:MAX90mA±20%
尺  寸:
本體:53×53×10mm
傳導貼片:62×74mm
重  量:
本體(包含電池):約30g
傳導貼片(含粘著貼片):約4g
產  地:台灣
保 固 期:二年 (登錄序號,保固期可延長為三年)
附 屬 品:
傳導貼片 (含粘著貼片) 2片、傳導貼片保護膜2片、3V電池1顆、簡易操作說明1張、保證卡1張
主機使用小卡1張、穴道圖1本、分歧傳導線1條、收納 盒1個。
衛署醫器製字第003315號

南市衛醫器廣字第1040800001號
本產品已在台灣投保富邦產品責任險5,000萬元
Bloggers Review
部落客使用感想

Bloggers Video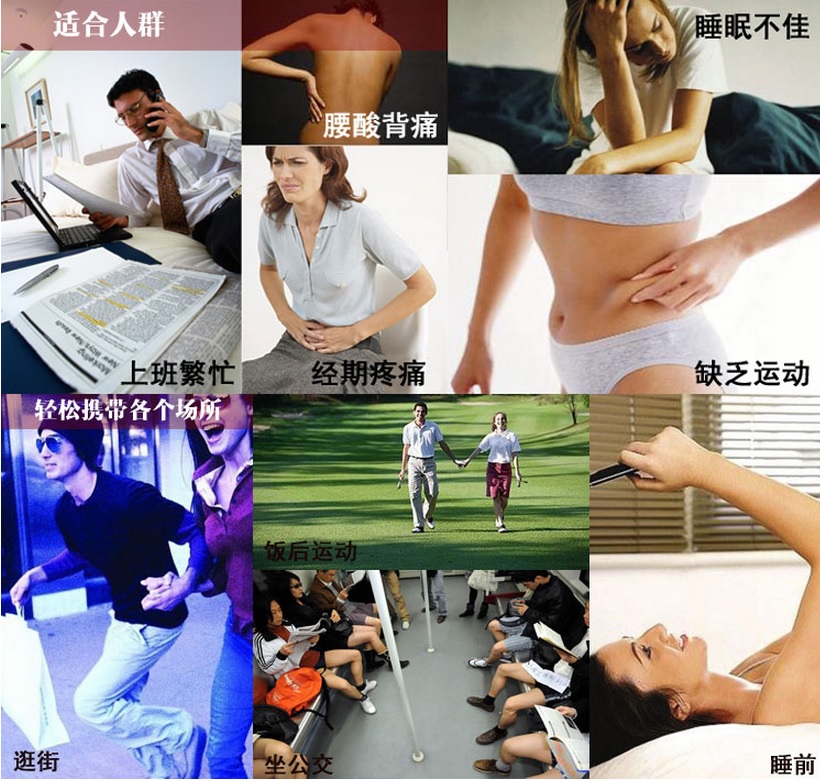 教學影片

Instruction Videos
Hello kitty醫卡低週波治療器迷你機【主機及貼片保存方式】
Hello kitty醫卡低週波治療器迷你機【故障簡易排除】
Hello kitty醫卡低週波治療器迷你機【購買通路】