Color Changing Glowing LED Bear with SOAP ROSE BOUQUET☆甜蜜浪漫七彩发光小熊香皂玫瑰花束
Sorry, this item is out of stock
Color Changing Glowing LED Bear with SOAP ROSE BOUQUET
Anniversary☆Valentines Day Special
☆Ideal gift☆Birthday/Gifts/Soft toy
FOREVER LOVE
Children/Novelty/For Her/Romantic/Vday/Mothers Day Flower
甜蜜浪漫七彩发光小熊香皂玫瑰花束
V-day Special Offer! 7 Color Changing Bear
 Soft, Huggable, and Luminous Bedtime Companion for Kids and Kids at Heart. 
Highlights: 
Color Changing Bear

Click 

the bear Shoulder will switch the light on; Click it again and the light will go off

Made of high-quality, super soft plush material

Automatic 7 color changing functions

Approximately 38cm tall

Uses 2AA batteries (Included)

Best gift for women, girls, and kids
Features:
BEAUTIFUL HANDMADE SOAP ROSE BOUQUET THAT WILL NEVER WILT & DIE LIKE REAL FLOWERS 

SIGNIFIES YOUR ETERNAL LOVE  FOR YOUR SPECIAL ONE
Specifications:
Choice of 2 Colours: 
Handmade Soap Roses
Roses Flower Bouquet
Chemical Free and Natural Essential Oil Fragrance



Hand made soap. Each flower is constitute with 3 thick layers of soap. Free of any chemical ingredients.




A comprehensive alternative to ordinary soap, cleanser, face cream, etc.,




Can be completely dissolved with water, contains active decontamination factor.




Effective whitening ingredient that contains aloe vera oil, natural essential oils.





Quickly and effectively penetrate to the skin. Promote blood circulation, stimulate the brain, eliminating fatigue; moisturize the skin.




Safe non-toxic materials





Enjoy the rose fragrance from the petal bath, leaving your skin softer and smoother.





Usage: This product can be used for hand washing or bath. Wet skin, use a petal to wipe, rub as foam was form then rinse with water





Bath: Fill bath tub with water, add petals into bath. After bath rinse with water.




All Products From Bluemoon Are 100% Authentic, We Promise!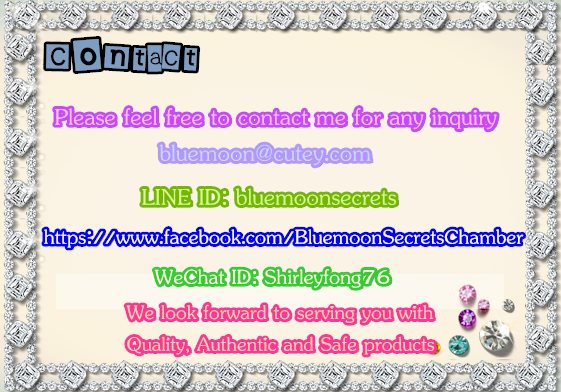 IMPORTANT DISCLAIMER
1. All pictures, photographs, designs, artwork, documents, layouts, ideas, writings, articles and other other material capable of being published or reproduced as provided in this site are subject to copyright and belongs to BLUEMOON SECRETS CHAMBER.
2.  Any reproduction, republication or posting in any form or manner whether in whole or in part is NOT allowed without the consent of BLUEMOON SECRETS CHAMBER. However, We are often very willing to share material upon request.
3. We reserve all rights to take legal actions against any individual for their Q&A postings that are baseless,
without concrete evidence and of mischief nature.
4. For inquiries, contact us at BLUEMOON@BLUEMOONSECRETSCHAMBER.COM
BLUEMOON SECRETS CHAMBER will be happy to assist you with our best knowledge.
5. If you found information here to be inappropriate or inaccurate,
kindly inform us via email and we will seriously review and response as soon as possible.
6. We regret any inconvenience caused during the period of clarification and seek your kind understanding.
7. BLUEMOON SECRETS CHAMBER remains committed to the highest quality of product, before and after sales service to all customers.
8. The information contained in this site is subject to change from time to time depending on circumstances and we do not guarantee the accuracy of the same. We recommend that you check with us before placing any orders.
9. We recommend that you use a reliable courier service or registered mail service for deliveries where applicable and we shall not be liable or responsible for any loss or damage caused or arising due to uninsured mail or normal postal deliveries