burner® Ultra Metabolism Boost Coffee/ burner®倍熱® 超代謝珈啡
burner® Ultra Metabolism Boost Organic Slimming Coffee (1 box 10 packets)
Transform double the calories into energy!

Made with HIGH-quality,

ORGANIC

Gold Arabica coffee beans known for their strong aroma!

100% natural plant extract (No Preservatives, No Fillers, No Colorings)

High Levels of Antioxidants 

Metabolism Booster

Lower Blood Sugar & Cholesterol

Suppress Appetite
Block Absorption of Fats & 

Carbohydrates
日本健康權威-阿部博幸博士研發

AX 3胜肽×促進新陳代謝

綠瑪黛×調節生理機能

低糖輕卡×濃郁香醇

添加菊苣纖維,增加飽足,使排便順暢
Funcare provides the world with certified products that are safe, natural, non-addictive and worthy of your trust!
This Product is certified by SGS to contain no heavy metal residues and no western medicine contents and holds multiple international safety certifications including the SQS (swiss National Food Class A Certification), GMP, HACCP, and ISO9001 certificates.
funcare standby the principle of "Health Science that is trusted around the world" and insist on utilizing the concepts of clinical experiments and scientific evidence to research and develop high quality, safe and trusted health products.
˙Original 2 world patented ingredients certification - Finomate EFLA920 Green Mate extracts, AX3 peptide

˙Japanese health authorities MD, Hiroyuki Abe¸ from Asian Physique design

˙Identified as a product by the Noguchi Medical Research Institute in Japan

˙Noguchi Medical Research Institute – the Trusted Medical Product Gold Award

˙Utilizes the Hyperpure® high efficiency extracting technology that has obtained its patent in 102 countries: manufactured by the highest ranked GMP-PIC plant factory, 100% natural plant extract. The exclusively patented Hyperpure® high efficiency extracting technology utilizes a patented quadruple specified process to distill, separate and extract active ingredients that ensures the high purity, high concentration, efficiency of the patented Finomate EFLA 920 Green Mate extract without any residual contaminations. 
All Products From Bluemoon Are 100% Authentic, We Promise!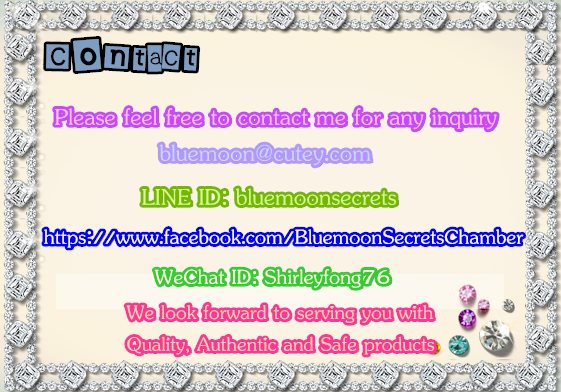 IMPORTANT DISCLAIMER
1. All pictures, photographs, designs, artwork, documents, layouts, ideas, writings, articles and other other material capable of being published or reproduced as provided in this site are subject to copyright and belongs to BLUEMOON SECRETS CHAMBER.
2.  Any reproduction, republication or posting in any form or manner whether in whole or in part is NOT allowed without the consent of BLUEMOON SECRETS CHAMBER. However, We are often very willing to share material upon request.
3. We reserve all rights to take legal actions against any individual for their Q&A postings that are baseless,
without concrete evidence and of mischief nature.
4. For inquiries, contact us at BLUEMOON@BLUEMOONSECRETSCHAMBER.COM
BLUEMOON SECRETS CHAMBER will be happy to assist you with our best knowledge.
5. If you found information here to be inappropriate or inaccurate,
kindly inform us via email and we will seriously review and response as soon as possible.
6. We regret any inconvenience caused during the period of clarification and seek your kind understanding.
7. BLUEMOON SECRETS CHAMBER remains committed to the highest quality of product, before and after sales service to all customers.
8. The information contained in this site is subject to change from time to time depending on circumstances and we do not guarantee the accuracy of the same. We recommend that you check with us before placing any orders.
9. We recommend that you use a reliable courier service or registered mail service for deliveries where applicable and we shall not be liable or responsible for any loss or damage caused or arising due to uninsured mail or normal postal deliveries