burner® Super Slimming Cream for Waist and Tummy EX 100ml/burner®倍熱®超孅腰腹霜EX
burner® Super Slimming Cream for Waist and Tummy EX 100ml
A Gradual Warm Sensational Formula to Remodel a Dream Corset Waist and Voluptuous 3D Hip
Absorb quickly to the innermost layer of the skin to provide firmness and elasticity. 
☆Quick Lifting
☆Block Fat Formation
☆Breaks Down Fat
☆Intensive and Resilient Skin
☆Boost Metabolism
☆Moisturise Skin
☆Toning & Firming
☆Smooth Fine Lines
☆Stimulate Abdominal Skin
☆Evolves Blood Circulation
☆Remodel Healthy & Flat Tummy
☆Awarding winning "Gold Medal" Noguchi Medical Institute Japan
Does not contain any heavy metal or investigational drug ingredients. Absolutely safe for administration.
Inspected and confirmed by SGS Taiwan Inc.
The new warming skin activating and tightening technology mixes the treasure of the nature- Poppy SE, microorganism Actigym from Bermuda and the secret to vitality and pleasantness- Caobromine with the natural herbal skin elastin and nourishing ingredients, collagen, rosehip oil and chamomile oil.
This special formula is designed to awaken skin's regenerative power. The special mechanism carries the active ingredients into deep layers of skin to even out skin texture and brighten skin appearance.
Skin becomes firmer and more elastic. With the coupling of multiple compound essential oils helps to enhance circulation and metabolism, discharging toxins quickly.
This strenghtens the skin's circulation to quickly break down fats while easing stretch marks.
The effective slimming formula gives you a corset-like waist and shape as well as a Voluptuous 3D Hips!!
Another slimming innovation in pursuit of the perfect streamlined shape, for an irresistible tummy tamer, waist-slimming and 3D hip boosting patented active ingredients to quickly achieve that curvaceous shape.
 

BLOGGERS PHOTO
All Products From Bluemoon Are 100% Authentic, We Promise!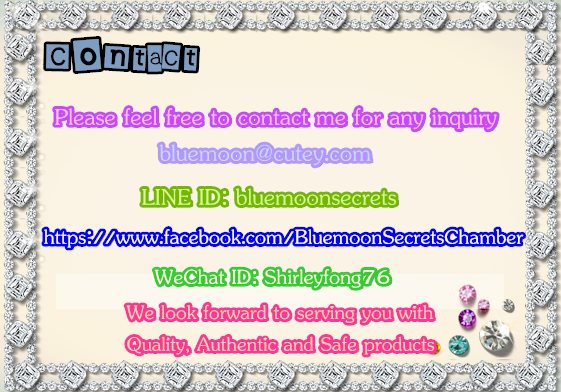 IMPORTANT DISCLAIMER
1. All pictures, photographs, designs, artwork, documents, layouts, ideas, writings, articles and other other material capable of being published or reproduced as provided in this site are subject to copyright and belongs to BLUEMOON SECRETS CHAMBER.
2.  Any reproduction, republication or posting in any form or manner whether in whole or in part is NOT allowed without the consent of BLUEMOON SECRETS CHAMBER. However, We are often very willing to share material upon request.
3. We reserve all rights to take legal actions against any individual for their Q&A postings that are baseless,
without concrete evidence and of mischief nature.
4. For inquiries, contact us at BLUEMOON@BLUEMOONSECRETSCHAMBER.COM
BLUEMOON SECRETS CHAMBER will be happy to assist you with our best knowledge.
5. If you found information here to be inappropriate or inaccurate,
kindly inform us via email and we will seriously review and response as soon as possible.
6. We regret any inconvenience caused during the period of clarification and seek your kind understanding.
7. BLUEMOON SECRETS CHAMBER remains committed to the highest quality of product, before and after sales service to all customers.
8. The information contained in this site is subject to change from time to time depending on circumstances and we do not guarantee the accuracy of the same. We recommend that you check with us before placing any orders.
9. We recommend that you use a reliable courier service or registered mail service for deliveries where applicable and we shall not be liable or responsible for any loss or damage caused or arising due to uninsured mail or normal postal deliveries