burner® Super Bodyfit Lotion EX 170ml/倍熱®超孅體乳EX
burner® Super Bodyfit Lotion EX 170ml


A New Sensational Formula to Remodel a Beautiful Body Shape
Toning Slimming Mositurising ALL IN ONE Body Lotion!!!!!!!!!
Smooth and Comfortable like a body lotion
NO HOT, NO SPICE, NO BURNING SENSATION
☆Quick Lifting
☆Block Fat Formation
☆Breaks Down Fat
☆Intensive and Resilient Skin
☆New Double Layer Tube Design
☆Moisturise Skin
☆Toning & Firming
☆Remodel Healthy & Fit Body Shape
☆Awarding winning "Gold Medal" Noguchi Medical Institute Japan
Does not contain any heavy metal or investigational drug ingredients. Absolutely safe for administration.
Inspected and confirmed by SGS Taiwan Inc.
burner倍熱 超孅體乳EX 170ml
全新強效升級,極上美形必備!

全新升級孅焠成分.肌膚緊實度加乘

革新雙管超導入概念

回歸緊.孅.彈

緊實肌膚 打造無齡美麗肌膚
New dual-tube formula for perfect body contours; the inner tube contains skin tightening formula added with Phytosonic (Tightening Factor) and Pink Pepperslim (Pink Pepper) to activate skin revitalization and repair. The outer tube contains moisturizing gel added with Cube3 Sodium hyaluronate to achieve instant moisturizing and restoration of bouncy skin. "Cream+Gel" double active ingredients boost the efficiency of absorption. And aided with massage techniques, full-body skincare gives you healthy and beautiful contours.
A new sensational formula to remodel a beautiful body shape! We use complex ingredients and combine them with a unique soft double layer tube design: the material in inner layer can decrease body weight and burn fat, the material in outer layer can preserve moisture and skin lift effect, so the Super Bodyfit Lotion EX can achieve multiple effects at the same time.
Inner layer: Phytosonic and Pink pepperslim
For Ultrasound-like lipolysis and pre-lipolysis effects.  Fats accumulation inhabits from the beginning and lipolysis procedures activation are dual effects against adipocytes. 
Outer layer:  Cube3 a hyaluronic acid derived from biological technology
For Lifting skin immediately and increase skin elasticity, improve moisturization and reinforce the actions of active components.
Both contents in dual layers can help you remodel a healthy and fit body shape.
burner® Super Bodyfit Lotion EX 170ml has won the "GOLD PRIZE FOR MEDICAL TRUST" from Japan - Noguchi Medical Research Institute and had exclusive formula for professional repair and maintenance from 200 hospital in Japan. Therefore, it can gently care for every inch of skin. All ingredients used in this product are from professional manufacturers that specifically produce cosmetics, the origins of the ingredients are carefully selected.  
More than 1 MILLION SOLD IN TAIWAN 
BLOGGERS PHOTO


All Products From Bluemoon Are 100% Authentic, We Promise!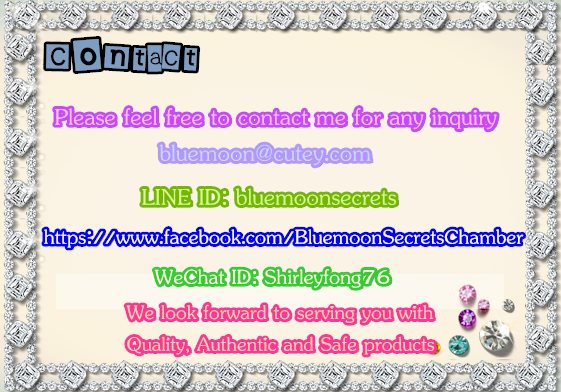 IMPORTANT DISCLAIMER
1. All pictures, photographs, designs, artwork, documents, layouts, ideas, writings, articles and other other material capable of being published or reproduced as provided in this site are subject to copyright and belongs to BLUEMOON SECRETS CHAMBER.
2.  Any reproduction, republication or posting in any form or manner whether in whole or in part is NOT allowed without the consent of BLUEMOON SECRETS CHAMBER. However, We are often very willing to share material upon request.
3. We reserve all rights to take legal actions against any individual for their Q&A postings that are baseless,
without concrete evidence and of mischief nature.
4. For inquiries, contact us at BLUEMOON@BLUEMOONSECRETSCHAMBER.COM
BLUEMOON SECRETS CHAMBER will be happy to assist you with our best knowledge.
5. If you found information here to be inappropriate or inaccurate,
kindly inform us via email and we will seriously review and response as soon as possible.
6. We regret any inconvenience caused during the period of clarification and seek your kind understanding.
7. BLUEMOON SECRETS CHAMBER remains committed to the highest quality of product, before and after sales service to all customers.
8. The information contained in this site is subject to change from time to time depending on circumstances and we do not guarantee the accuracy of the same. We recommend that you check with us before placing any orders.
9. We recommend that you use a reliable courier service or registered mail service for deliveries where applicable and we shall not be liable or responsible for any loss or damage caused or arising due to uninsured mail or normal postal deliveries