[BeautyDIY] Red Wine Hydra Gel Mask☆牛爾紅酒多酚保濕面膜
Sorry, this item is out of stock
[BeautyDIY] Red Wine Hydra Mask
☆Whitening/Anti Oxidation/ Hyaluronic Acid/Moisturizing/Firming
☆女人我最大/大S推荐
牛爾紅酒多酚保濕面膜
 

Recommended by Taiwan Variety Show 女人我最大 QUEEN! (牛爾 Niu-Er) 

120ml
Natural red wine extract which is rich in antioxidant polyphenol constituents to maintain skin's health. 
At the same time gelatinous moisturizing mask containing moisturising hyaluronic acid (保濕玻尿酸) composition, with the rapid replenishment of the efficacy of Vitamin C, which has whitening and moisturizing effects, it gives your skin a healthy and radiant skin! This is a multi-effect mask and can be use frequently!
This is the one made extremely popular by celebrity Da S from Taiwan. An all-rounder performer for skincare, this mask retains and boost the moisture to another level. Red wine scented, of cos.
This is a hot sale item! Red wine mask has outstanding whitening, anti-oxidation, effective moisturizing and skin firming effect.
An affordable and good facial mask that can be used daily. = )  
Suitable for people with dry skin, those prone to freckles.
 It's recommended to use before your important date, for the supple skin and radiant look.
 A lot of girls dunno abt the brand Beauty Diy. well, cos it's not sold in singapore! 
it's a brand created by the famous beauty 'teacher', niu er, the man above, who always appeared in taiwan female show 女人我最大 QUEEN! 
Applying this mask at night feels like i am chilling out! 
Imagine, the burst of red wine essense on your face! So it's feeling good! 
 Have you watched this biore facial wash advertisement on tv before? 
After using this mask, I can feel a Boing-biong~ feeling on my face! 
It' s so supple and radiant! You feel as if your skin is pumped up!
The high amounts of anti-oxidants present in Red Wine have always been known to have been highly beneficial for our health.
 Imagine a glass of red wine specially catered for your skin and the benefits it could have for you?

Red Wine Hydrating Mask from BeautyDIY consist of rich anti-oxidant polyphenols which nourishes and supplements your skin to protect and give it a radiant and ever-glowing skin. 
Along with its Sodium Hyaluronate and Magnesium Ascorbyl Phosphate ingredients, you will have moisturized skin which is flawless, radiant and glowing with health
紅酒當中富含葡萄多酚成分,不僅對身體有益,近年來也成為皮膚保養的聖品。這款 凝膠狀的面膜除了含有抗氧化的紅酒多酚成分,還添加保濕玻尿酸,是一款可以天天使用的面膜,可以幫助膚質維持健康穩定,保持紅潤透亮的完美肌質。天然紅酒 萃取含有豐富的抗氧化多酚成分,維持肌膚的健康。同時凝膠狀的面膜含有保濕的玻尿酸成分,具有迅速補水的功效,添加維他命C磷酸鎂,具有持續美白的功效。 是一款可以經常使用的多功效面膜!

適用膚質:各種肌膚,特別是黯沈無光澤的肌膚.
Ingredients & Functions
Red Wine Polyphenol, Green Tea Extract
Contains rich antioxidants to protect your skin from radicals which enhances your skin to be more resistant to environmental radicals. Gives your skin a rosy, radiant and glowing complexion 

Sodium Hyaluronate
Strong moisturizing capabilities which soothes your skin. Restores and maintains skin moisture content
 
Magnesium Ascorbyl Phosphate
A water soluble derivative of vitamin C which is readily absorbed into your skin. Consist of anti-oxidants which boost skin collagen synthesis and protect your skin against UV radiation. Whitens and balances uneven skin tones

Vitamin A
Improves skin Elasticity and minimizes pores 

Osmanthus essential oil
Fragrant aroma to entice the senses while you are using the mask

Ginko Extract
Taken from the roots of mulberry plant. Stabilizes the condition of the skin and stabilizes sensitive skin condition
商品說明

【不上妝,也能蘋果光的秘密】讓肌膚如喝了紅酒般,白裡透紅、水嫩滋潤

精選來自法國頂級紅酒多酚的精華萃取,能有效恢復皮膚光澤彈性,重現白皙明亮,雙倍保濕、美白、透亮。
搭配桑葉精萃,全方位改善所有肌膚問題,幫助肌膚增加吸收力,緊實肌膚,解決粗荒、暗沉問題。

賦予肌膚健康的氣色與活力,延緩老化!

法國人喜歡以紅酒來搭配美食,是由於紅酒當中含葡萄多酚成分。紅酒多酚萃取自?葡萄酒,採用紅葡萄釀造,將葡萄皮連同葡萄一起浸泡發酵。在經發酵成為葡萄酒後,多酚含量更提高、成分更穩定,抗老化能力大幅提昇。紅酒中的多酚化合物超過50種,是目前所發現抗老化物種類最多、範圍廣的物質。紅酒多酚是從紅酒中萃取出,具有高度的抗老化能力,紅酒多酚可以讓肌膚恢復明亮、白皙光澤,因此,開始有人將紅酒多酚應用於保養品及面膜中。另有研究報告指出,對於愛美女性而言,紅酒中的鈣、鎂、鉀、鐵,都能讓妳常保氣色紅潤。『紅酒萃取精華』豐富的抗氧化多酚成分,能保護肌膚免於老化,提升肌膚抵抗力,近年來成為皮膚保養的聖品。

同時發揮「抗老化」「保溼」「淡斑」三重功效

※富含紅酒中的多酚及維生素群,微晶分子深入肌膚,由內而外改善肌膚缺水暗沈狀況,細緻毛孔,給您淨白粉嫩的嬌顏!
※添加高效保濕、強力鎖水的玻尿酸,滋潤每吋乾燥、枯萎的肌膚,長效補給水分、維持老廢角質的正常代謝,同時完成補水、儲水、鎖水,形成保水網,隨時呈現水潤緊緻的ㄉㄨㄞ ㄉㄨㄞ好臉色。
※添加二大緊緻抗老成分:天然紅酒萃取及綠茶葉萃取,增強肌膚防護力、維持肌膚緊緻與彈性。

『BeautyDiy紅酒多酚保濕面膜』無添加酒精,敏感肌也適用,是一款可以天天使用的面膜,可以幫助膚質維持健康穩定,保持紅潤透亮的完美肌質。

※本商品為台灣製造MIT,
使用方法
【水洗式面膜,敷後10-15分鐘需以水沖洗】
清潔臉部後,取適量面膜塗抹稍厚的一層於臉部肌膚,避開眼睛周圍及唇部,

待10-15分鐘之後,再用清水將面膜洗淨

,此面膜可以天天使用。
主要成份
同時發揮「抗老化」「保溼」「淡斑」三重功效
『抗老化』
◎        紅酒多酚萃取:帶有天然的紅色色澤,具有增強肌膚抵抗力,協助肌膚抗老化,使肌膚恢復紅潤與光澤氣色的美膚成分。
◎        綠茶葉萃取:協助紅酒多酚的抗老化成分,含有兒茶素,能夠幫助肌膚維持健康光澤。
◎        桂花精油:淡淡的花香氣息,能使敷臉的同時感到自然的愉悅感受。
『保溼』
◎        玻尿酸:保水效果堪稱保濕天王成分,對肌膚溫和不易刺激,適合所有膚質使用的最佳保濕產品成分。
◎        甘油:加強保濕,溫和保濕因子,能持續加強肌膚潤澤。
『淡斑』
◎        維他命C磷酸鎂:一種穩定狀態的維他命C衍生物,能發揮美白、抗老化,均勻膚色的保養效果。
◎        桑葉萃取:可改善暗沉,溫和的淨白調理肌膚。
◎        維他命A:維他命A酯。穩定而不易刺激的維他命A衍生物,能夠緊緻肌膚,幫助維持毛孔緊緻。
1. 若使用時有以下症狀,請停止使用,並諮詢肌膚科醫師意見:
   使用時出現紅、腫、癢、刺激感等現象。
   使用後經日曬有上述症狀產生。
2. 請盡量避免將產品使用於傷口、紅腫及濕疹等肌膚異常部位。
3. 敏感性肌膚請先做好肌膚測試,待沒有過敏反應後即可使用。
4. 使用時避開眼睛,若不慎滲入眼睛內部,請以大量清水沖洗
5. 請置於孩童及嬰兒拿不到的地方,不可食用。
6. 產品未拆封可以保存三年,但為達最佳保養效果,建議產品拆封之後儘速於6個月之內使用完畢。
All Products From Bluemoon Are 100% Authentic, We Promise!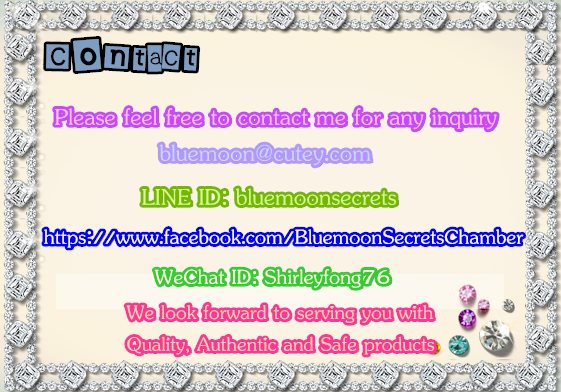 IMPORTANT DISCLAIMER
1. All pictures, photographs, designs, artwork, documents, layouts, ideas, writings, articles and other other material capable of being published or reproduced as provided in this site are subject to copyright and belongs to BLUEMOON SECRETS CHAMBER.
2.  Any reproduction, republication or posting in any form or manner whether in whole or in part is NOT allowed without the consent of BLUEMOON SECRETS CHAMBER. However, We are often very willing to share material upon request.
3. We reserve all rights to take legal actions against any individual for their Q&A postings that are baseless,
without concrete evidence and of mischief nature.
4. For inquiries, contact us at BLUEMOON@BLUEMOONSECRETSCHAMBER.COM
BLUEMOON SECRETS CHAMBER will be happy to assist you with our best knowledge.
5. If you found information here to be inappropriate or inaccurate,
kindly inform us via email and we will seriously review and response as soon as possible.
6. We regret any inconvenience caused during the period of clarification and seek your kind understanding.
7. BLUEMOON SECRETS CHAMBER remains committed to the highest quality of product, before and after sales service to all customers.
8. The information contained in this site is subject to change from time to time depending on circumstances and we do not guarantee the accuracy of the same. We recommend that you check with us before placing any orders.
9. We recommend that you use a reliable courier service or registered mail service for deliveries where applicable and we shall not be liable or responsible for any loss or damage caused or arising due to uninsured mail or normal postal deliveries